We love helping families. (It's the 2nd half of the commandment: Love God: Love people ) As we all know, finding a home is one of the largest expenses we'll ever have. The process of finding the "right one" or even qualifying for the "right one" can oftentimes be a bit overwhelming. Greg is licensed in Minnesota as a Real Estate Broker, as well as, informs and instructs people on credit dynamics. He will assist you in all your needs with regard to real estate, as one more aspect of Up Front Ministries mission. He embraces the "It's a Wonderful Life" approach to home purchases for couples:

.Bread, that this house may never know hunger.
.Salt, that life may always have flavor.
.And wine, that joy and prosperity reign forever.


Specialized Service Areas: Lake Minnetonka, Golden Valley, Eden Prairie, Excelsior, Deephaven, and all Twin City suburbs. Areas of Specialization include: CMA's: Comparative Market Analysis, Credit dynamics consulting i.e. qualifying for mortgage requirements, etc. Residential homes, including upper bracket, luxury homes, lake properties and Business Opportunities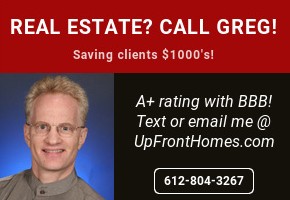 MN. Real Estate Broker License # 40112115